MasterClass is always a fun and exciting learning experience, for both the students and the instructors. Luckily, our last class was super talkative and had a lot of valuable information to share! Want to hear their thoughts? Our team took good notes so that everyone could listen in on this 3-day workshop.
Another successful Microblading MasterClass is in the books here at Eye Design! Our team–myself included–loves meeting with some of the brightest student technicians from across the country (and even around the world!) to teach them our expert techniques and work side-by-side.
Thanks to the group atmosphere, we were able to chat with students and get to know a little more about their experiences in the microblading industry. Curious about what these up-and-coming techs had to say? Keep reading.
Faviana from Long Island (New York), who owns her own salon that does eyelashes and electrolysis, decided to take MasterClass because she wants to expand her services and do microblading.
"I did a lot of research before picking a course. I noticed that Nadia had won several awards and contests, and that all her photos and videos showed really clean, even results," Faviana tells our team.
When she asked me, founder and Master Technician Nadia, about the chance of keloids forming during the microblading procedure, I assure her that that is only a myth! I have never seen keloids form on clients at our studio. This is because keloids only occur under the dermis, and Eye Design's technique works on top of the dermis (always).
Alyssa from Ohio chose MasterClass because she is already a big fan of Eye Design's Microblading Pigments–especially Chocolate! She also mentioned that she mixes Caramel and Orange for her clients with red hair. (Thanks for the tip, Alyssa!)
"I instantly noticed a difference in MasterClass [compared to other courses I've taken]," Alyssa says.
"Courses I've taken elsewhere did not go over needles and blades or skin thickness at all. None of them had us work on artificial skin, either, and the sanitation was terrible," she continues.
"So, I ordered my own artificial skin from Amazon to practice, but it is much flimsier than Eye Design's. The quality overall is a lot worse."
Similarly, Alyssa shared that the previous courses she'd taken were nowhere near as long as MasterClass, lasting only a few hours, with no opportunity to work on live models. Many of the classmates agreed!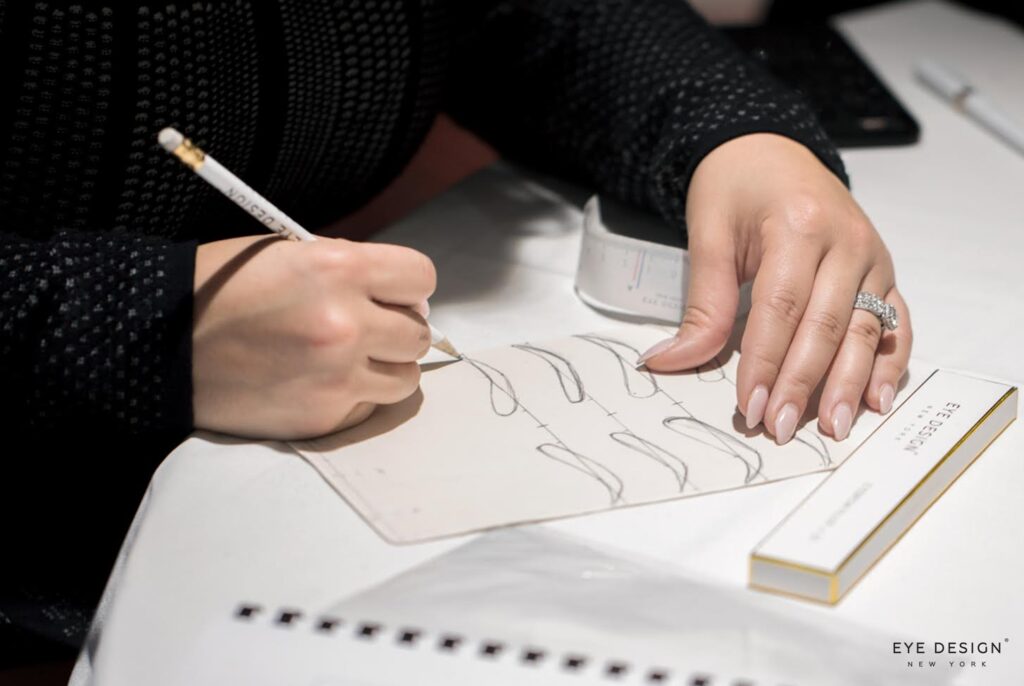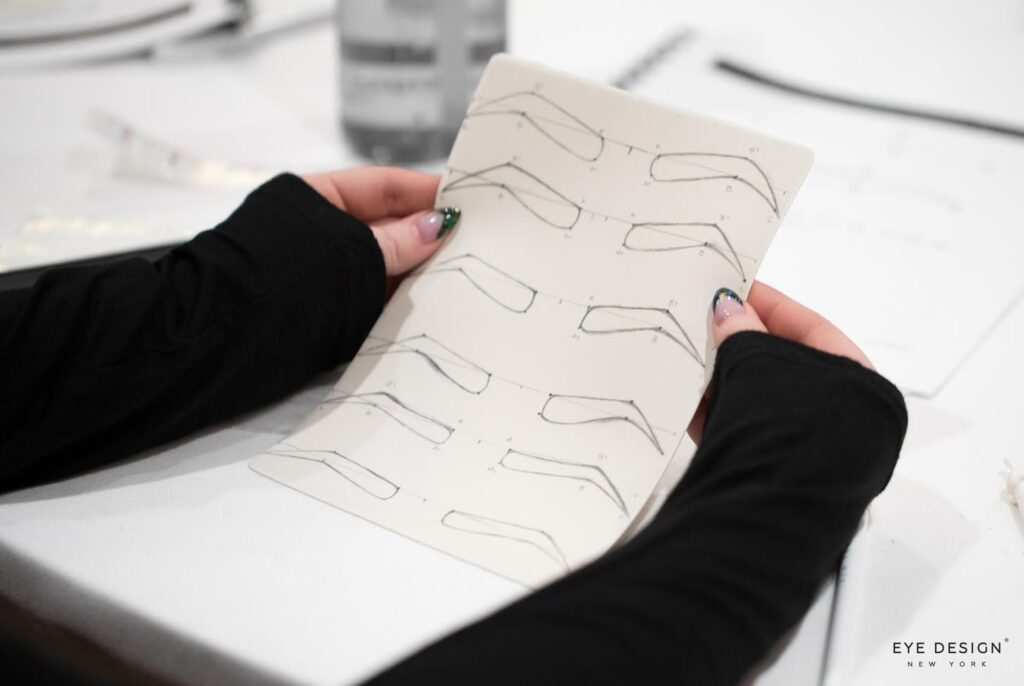 Teoni from New York City is also already a practicing tech.
"All of Nadia's techniques are completely different from what I've learned before," she shares.
"For example, I was told not to use alcohol to disinfect. Instead, I was told to use baby wipes," Teoni continues.
Failure to use alcohol to disinfect your client's skin and brows often leads to the growth of harmful bacteria. That is why I always teach other technicians how to carefully use alcohol to clean around the eye area.
"I also never learned how to draw the [brow] shape properly. In the past I only got to practice on silicone, which is really different from the skin on a person's face. I prefer Eye Design's artificial skin because it feels much better."
Most shockingly, however, is Teoni's experience with needles in other courses.
"I was told it didn't matter how deep you deposited the pigment because you want it to really seap in," she says.
"But working on my own, I would cut clients really badly and caused a lot of bleeding following these rules."
That should never be the case in microblading or any semi-permanent makeup procedure. The correct technique is to work under the epidermis, the top layer of skin, where bleeding is extremely minimal.
Not all MasterClass students are practicing techs, however. They come from all walks of life!
Lauren from New Jersey is a former nanny and a freelance makeup artist with no professional training (besides ours!) and no consistency in her practice.
"I want to do microblading so that I can put myself through beauty school," she tells us. "I decided to jump into the industry after my nannying contract ended."
Samantha from NYC, who formerly took a lash extensions course here at Eye Design, also gained her first microblading experience at our MasterClass!
"As an aesthetician, I've been wanting to learn microblading for a long time. I chose Eye Design because many other training programs do not offer live model practice," she says.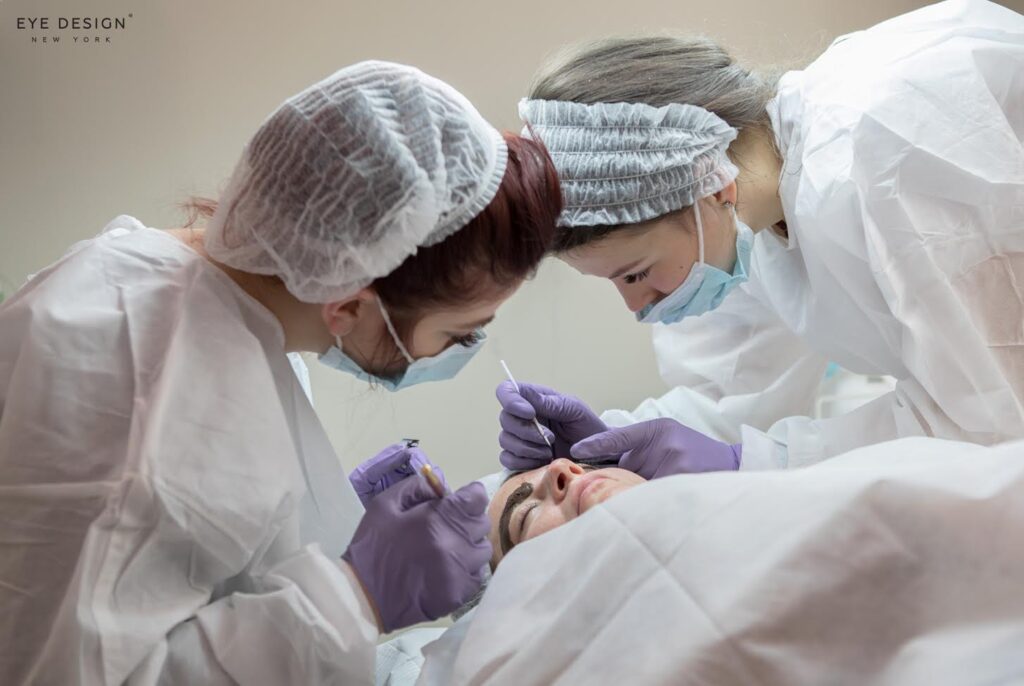 Estefania from New Jersey also found the realistic approach more helpful.
"I've taken previous microblading courses, but I was never taught realistic brow shapes. I was taught only to focus on proportions," she shares.
"Nadia's technique is definitely more useful because most people do not have faces that fit the exact proportions [that I was taught]," Estefania continues.
"I am glad I found this workshop so that I can cater to more diverse clientele!"
The aspiring tech also mentioned that she loved Eye Design's artificial skin.
"Previously, I worked on artificial skin made of latex, but I prefer Eye Design's because it is more realistic. Latex is rough, so the blade doesn't glide nicely and it gets stuck a lot. It's more difficult to work with in general," she says.
Much like Estefania, many of these students were excited to learn more about diversity in hair patterns. When I explained that Asian eyebrow hair tends to grow in a downwards direction, while most others grow in a mixed direction, many students were just hearing that information for the first time.
Anyone can show you their work right after the procedure is complete; this is known as fresh work, and it usually looks great. Students should be more careful when searching for a class to take; always look for places that post photos of their work after it is fully healed! That is one you see the real results.