Performing live demos for our students, and even allowing them to work firsthand on live models, is part of what makes Eye Design University the best microblading training facility in the world! Because we work on models so often (it's a complete necessity for us), our team is constantly on the hunt for new ones–and we want you to apply!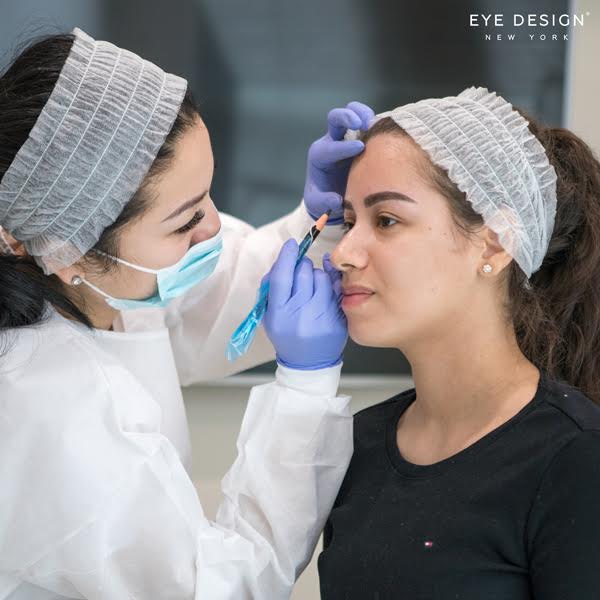 Eye Design is always looking for models to visit our Fifth Avenue studio! This is an exciting opportunity for both professional models with tons of experience, as well as inexperienced and non-professional models, because it gives you, the model, a chance to experience our microblading and lash extensions services at no cost.
If you haven't already considered becoming a model for Eye Design, we're sure you are considering it now! And because we know you're so curious about the process, our team is ready to give you the down-low on what it is really like to be an Eye Design model. After all, hands-on, live model demos are what make our training course so unique and effective.
Models who are booked for our Microblading Masterclass (which runs March, April and May) find the exciting group atmosphere to be a fun experience, unlike anything they've ever done before. We need a minimum of 14 models for each Masterclass (one for each of Eye Design's own technicians and one for each student tech). However, no-shows happen, so we also book three on-call models each time.
Don't let the possibility of having your brows done by a student tech scare you out of being a model! Our highly skilled technicians are there to guide them every step of the way. As the class instructor, Eye Design founder and Master Technician, I would never, ever let a student who was not ready to move onto the live model portion of the class (which is always saved for the final day). Student techs do not move on unless they were ready. Similarly, all of Eye Design's own technicians went through the same exact training process before they officially joined my team.
Although our models always leave our studio happy and excited about their new brows–many go on to become our long-term customers–we do offer touch-up appointments. During the touch-up one of Eye Design's technicians will address any of your concerns.
Think you have what it takes? We are sure you do! Eye Design looks for models with typical features, so most people fit the bill. Our team believes it is best to provide these types of models for our student technicians because they are the easiest to work on. For most of our students, this is our first time work on a live model, so we do not want to surprise them with a trickier case.
But even if you are considered a special case, don't worry. You should still apply if you are interested; we work on live models at our studio every Wednesday, and you may be just the face she's looking for.
Apply by clicking here, and be sure to keep up with our Instagram (@nadia_afanaseva); our team posts modeling opportunities there, too! We look forward to reviewing your submissions, and hope to see you soon.